Tens of thousands of residents and visitors each year utilize the Upper Iowa River and its corridor for recreational activities including canoeing, kayaking, fishing, tubing, wildlife watching, camping, and other activities.
Canoeing and Kayaking
The Upper Iowa River is perhaps the most widely-recognized river in Iowa and one of the first in the nation to be nominated as a national Wild and Scenic River in the 1960s. Thanks largely to private landowners and organizations that own and care for it, the river corridor has retained its scenic and natural character and become a premier recreational river. Paddlers will share this river with local families, anglers, bird enthusiasts, campers, hikers and the wildlife that call this diverse corridor home. The river originates in LeRoy, Minnesota before meandering 136 miles to the Mississippi River near New Albin, Iowa. The river and corridor change along its length, going from a narrow and winding savanna river to a wider and more dynamic river flanked by dramatic vertical limestone palisades and forested bluffs.
Interactive Map
Fishing
The Upper Iowa River Watershed supports cold and warm water fish species but three dams restrict fish movement and species prevalence. Smallmouth bass, walleye, trout, and non-game fish are abundant throughout the river. Trout are especially prevalent near the mouth of coldwater streams, and more than 30 of these streams make their way into the Upper Iowa River. Below the dams, sauger, sturgeon, northern pike, flathead and channel catfish, yellow perch, and white bass migrate up from the Mississippi River. Smallmouth bass and walleye prefer rocky or sandy substrate, especially in the deepest pools. Dead trees, boulders, and root balls provide fish habitat, but beware, they also create dangerous undercurrents. Local trout fishing maps and guides can be picked up locally or downloaded from northeastiowarcd.org. The iowadnr.gov fishing website provides information on fishing regulations, licenses, and weekly fishing reports. Connections with other local anglers can be made through the Iowa Coldwater Conservancy, Trout Unlimited (including the Iowa Driftless Chapter), or the Hawkeye Fly Fishing Association.
Fishing Reports
Each Thursday afternoon, the Iowa DNR publishes a free fishing report for Iowa streams, rivers, and lakes. Visit https://www.iowadnr.gov/Fishing/Fishing-Reports and search for the "Upper Iowa River" or "Decorah District Streams" for information on what fish are biting.
Trout Fishing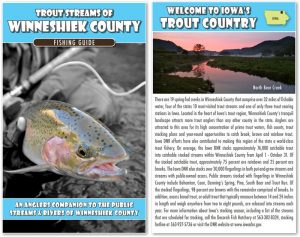 The Upper Iowa River Watershed boasts 152 miles of Cold Water Stream segments, providing ample opportunities for trout fishing. Upper Iowa River cold water streams are featured in the Trout Fishing Maps and Guides for Winneshiek and Allamakee Counties.
Public Lands, Bird and Wildlife Watching
The woodlands, bluffs, habitat diversity, remoteness, and other natural characteristics of the watershed make the Upper Iowa corridor a bird haven. It is part of the Mississippi River Flyway, near a Globally Important Birding Area, and connected to large, remote tracts of private and public forests, wetlands and prairies, wildlife management areas (WMAs), and other natural areas. Hundreds of species migrate through in the spring and many additional species nest along the river. A 2014 survey identified eight eagle nests visible from the river during full foliage. More would be visible if the leaves weren't blocking the view! During winter months, open sections of the river help birds and other wildlife find food to survive and thrive.
Waterfalls and Springs
Thanks to 35 inches of rain per year, hilly terrain, and karst topography, numerous waterfalls dot the landscape of the Upper Iowa River Watershed. Three of Travel Iowa's "13 Wonderful Waterfalls in Iowa" are located within walking distance of the Upper Iowa River. The largest spring in Minnesota, Odessa Spring, flows directly into the Upper Iowa River.
Odessa and Malanaphy Springs are accessible from the river. Dunnings Spring, Twin Springs, and the second largest spring in Iowa, Siewers Spring are all nearby. Siewers Spring provides water for the fish hatchery in Decorah as well as one of the nation's most universally accessible trout streams, Trout Run. There are four man-made dams that create waterfalls of their own which although pretty, are extremely dangerous. Do not paddle over them or near them, from either above or below. Their undercurrents are drowning machines. All of the coldwater streams that flow into the river are fed by springs. Coldwater Creek, which emerges from the base of a 100-foot tall bluff is publicly accessible in the Coldwater Spring State Preserve, one mile north of the river at the only natural entrance to Coldwater Cave, a National Landmark, and Iowa's longest cave.